Disclosure: I get commissions for purchases made through links in this page. This helps keep this site running
Here is the step by step illustrated guide for how to archive an Amazon order. Firstly though, let's be clear about what archiving is (and what it isn't!) Archiving an order from Amazon means "hiding" the record of your order. That's basically what it is. It won't delete it from your account, but it makes it much harder for anyone else to see it.
And no, there is no way to delete an old order. You can usually cancel an Amazon order within a very brief amount of time after placing it. But you cannot delete the record of a previously created order on your Amazon account.
Therefore archiving an order is the best way to hide a previous order, and is the closest possible thing to deleting an old Amazon order.
Where does an archived order go?
Remember, archiving only affects the record of the order in your Amazon account online - the items itself you probably already received awhile back. Archiving is designed for old orders that you've already received. When you archive one of your previous Amazon orders, it removes it from your list of orders and puts it elsewhere. The place where it goes is in a separate section of your account called (not surprisingly) "archived orders" - you'll see this place illustrated further along in this article.
Archiving is reversible. If you archive an order and change your mind, you can always un-archive it later down the track, so you don't have to stress if you change your mind or archive the wrong order.
You can only have up to 500 orders in your archive at any time. That's a lot though, so you probably won't hit the limit! Remember, you can un-archive if you wish.
I want to get to the step by step pics ASAP, but first let's quickly go over common reasons why you might want to archive an order. There's no point doing it if you don't really need to, after all!
Reasons you might want to archive an Amazon order
The main reason to archive an Amazon order is so that no-one else accidentally sees what you ordered when you go into your Amazon account.
If you share an Amazon account with a spouse or household member
If anyone else knows your login details for your Amazon account
If you often have someone looking over your shoulder when you order (e.g. your young kids)
then you might want to archive items that you don't want the other person to see.
Types of orders you might want to archive
Birthday or Christmas gifts - for example, if your spouse shares your login details to your Amazon account, you don't want him or her to see what you ordered for their birthday next time they log in! It will spoil the surprise
Certain medical or personal care items - if you purchased an item that you'd feel awkward if others knew about it, then you may want to archive those orders. I would not recommend Amazon as the best place for medical items anyway because you can never be 100% certain about authenticity. Instead I'd recommend shopping online at a well-known pharmacy such as Rite Aid.
Age 18+ items - if you have bought some type of "adult item" then you probably don't want your kids seeing this
Any other item that you would consider private for any reason
Step by step illustrated tutorial for archiving an Amazon order
Let's move right along now to how to archive an Amazon order. Please note that these instructions are for laptop or desktop, not the Amazon app on phone or tablet.
1. Log into your Amazon account, then go to "Returns & Orders" at top right
First log into your Amazon account, then at the top right click on "Returns & Orders". Alternatively this link to Returns & Orders should take you there (it'll make you log in first if you're not already). See image below:
2. Find the order you want to archive
At this point, your screen should look like this:
Find the order you want. Don't worry if it doesn't show up on the list - it probably means it's an older order. If that's the case you can toggle the timeframe as shown circled in red near the top. In my example, I'm archiving an order at the top of my orders list. In the next step we'll click on "Archive order" below the order details.
Optional tip: If it was a digital item (e.g. downloadable music) that you want to archive, then in the same page where you are, at the top of your list click on "digital orders" in the blue links to the right of "Orders". Digital orders are already kind of hidden this way anyway under "digital orders". So most people don't feel the need to archive their digital orders because they're simply already not as visible in your Amazon account.
3. Click on "Archive order" at the bottom of that particular order
Once you know which order you want to archive, click on "archive order" as shown circled in red in the previous image above.
You will then arrive at a confirmation screen like this:
In the confirmation box as shown above, click the "archive order" button to confirm you do want to archive the order.
Done! That was easy! You don't need to read any further, everything is complete, but in case you're wondering, I also show you below how to get to your archived orders to see it there.
The order info is now removed from your Returns & Orders page. Let's take a look at your archived orders to see where it went.
[optional] To see your archived orders, go to "Account & Lists" -> "Account" -> "Archived orders"
As promised at the start of the article, here's where your archived orders go. Simply follow along with the pics. Go to "Account & Lists", then on the drop-down menu choose "Account" as shown in the image: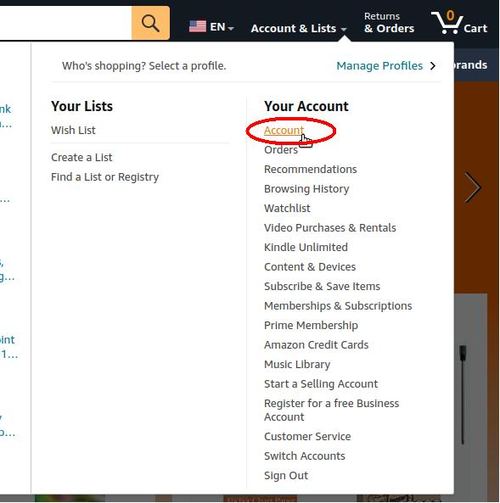 Next click on the "Archived orders" box as shown below circled in red:
After clicking on "Archived orders" you'll see your list of archived orders.
Is it OK to never archive Amazon orders?
Yes, that's totally OK! Many people never archive their Amazon orders. For example, if you're the only person with access to your Amazon account and you don't have anyone looking over your shoulder when you order, you won't have a need for archiving. But if you ever need to do it, now you know how.
We have other illustrated tutorials to help you with some of the slightly more challenging things to do on Amazon, such as how to find the Amazon product reviews you wrote, how to buy a single MP3 track on Amazon without accidentally buying the whole album, and how to re-download your previously purchased Amazon music without buying it again.