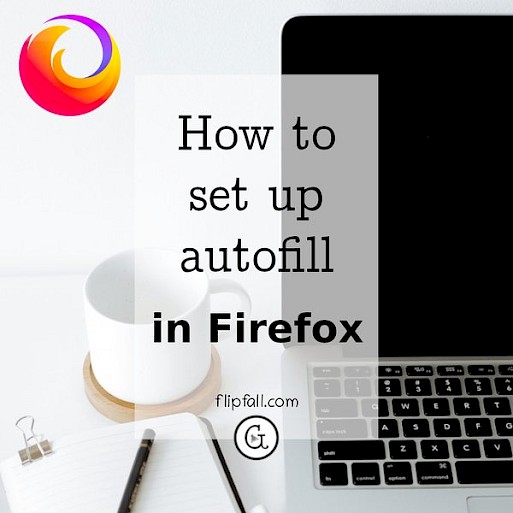 The Firefox browser is able to fill out forms for you automatically, including your passwords. This illustrated tutorial shows you how to set up autofill for Firefox.
The risks of auto form fill
One word of caution first: allowing auto form fill offers you a lot of convenience, but it also comes with a security risk, particularly if others have access to your computer. This is true of any browser form filler, whether it's Firefox, Edge, Safari, Chrome or any other.
Once you have turned on auto form fill, anyone else who then uses your computer could accidentally or purposely buy something online using your password and credit card number. This is true even if they don't personally know your passwords and credit card details. Autofill stores that information on your computer, so anyone using your computer could log in and purchase things without needing to know all the details themselves.
How to keep as safe as possible with autofill turned on
If you must use Firefox autofill, you should:
Be the only one with access to your computer
Have 2FA (2 factor authentication) set up for any site where you could spend money. For example, if you have a Target account, make sure to set up 2FA on it. This way, a text will arrive on your phone with a security code to enter when you log in to the site. So if the person doesn't have your phone, they can't log into Target on your computer. It's not a leakproof solution - for example, a malicious person who accesses your computer could still order something online as a guest using your saved credit card details, even if they can't get into your Target account. Also, not all sites offer 2FA. But turning on 2FA for sites that offer it is a good start.
If you're feeling scared at this point and don't want to turn on autofill, that's fine - and if you want to make absolutely certain it's turned off, we have a separate article about how to turn off Firefox autofill.
But if you decide you're OK with the security risks and want to proceed with turning on autofill for Firefox, here's how to do it.
1. Go to Firefox settings
Simply click on the 3 lines near the top right to bring up the preferences menu, and then click on Settings as shown in the image below.
2. Select "Privacy and Security Settings"
After the first step of clicking on Settings, you'll see a menu on the left. One of the options is Privacy and Security Settings - click on that. Your screen should now look something like the pic below. Don't worry if your settings are different at this step, it's the next steps where you need to be careful about matching the settings.
All of the Firefox autofill settings are on this page.
3. Scroll down and enable the Firefox form filler options
To turn on form fill in Firefox, make sure the settings in the image above are checked. If you can't see the image clearly, the settings are listed here:
Ask to save logins and passwords for websites
Autofill logins and passwords
Autofill addresses
Autofill credit cards
Remember, you want to be sure to check these checkboxes to enable autofill. Firefox will will out web forms automatically.
4. Turn on autosuggest
Still on the same page as the previous step, scroll down a bit more. For maximum convenience you'll want to enable autosuggest too. This means when you start typing the site you want to go to, or a search term, then Firefox will suggest what it thinks you want. It's pretty accurate and convenient. After scrolling down a bit, your screen should look like this:
To turn on autosuggest make sure the following boxes are checked:
under History
"Remember search and form history" - if this checkbox isn't available, scroll up to "tracking protection" and select "Custom". The checkbox should re-appear.
In "Address Bar - Firefox suggest"
Browsing history
Bookmarks
Search engines
Conclusion
Done! Now Firefox will autofill your forms, logins, passwords, and so on. When you search for something, it'll give you suggestions for what you're trying to find. This is about as convenient as it gets.
Remember that this comes with some security risks if anyone else were to get access to your computer. Because of this, it's only recommended to do it if you're not using a shared computer. Even then, it's best practice to use 2FA (2 factor authentication) on your online accounts wherever offered.
If you change your mind after some time and want to remove autofill, it's OK, just uncheck all the boxes mentioned above. Or if you prefer, we have a separate step by step guide for how to turn off form fill and autofill for Firefox.
You might also like these easy online privacy habits to build into your day.